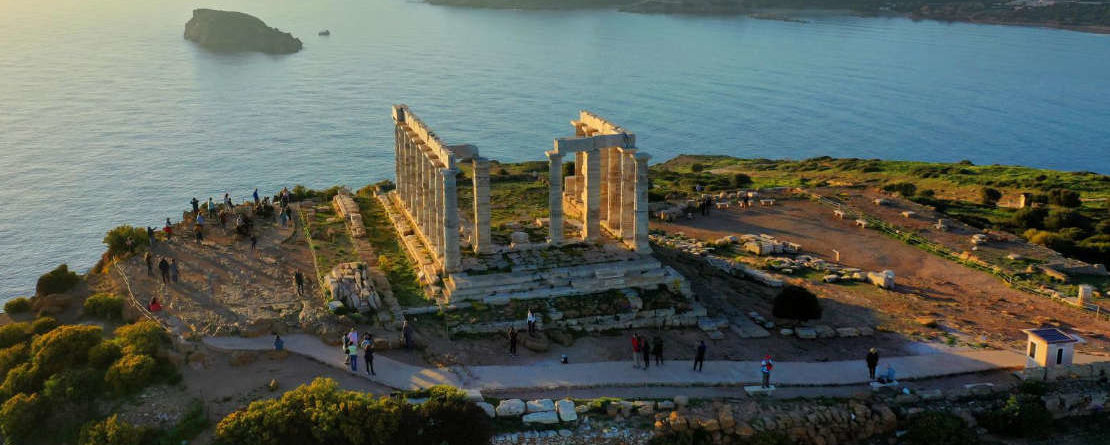 Cape Sounio Athens Riviera
Cape Sounio is a promontory surrounded by sea on three sides, located 70 km southeast of Athens at the southern most tip of the Attica peninsula, where perched upon the headland stand the remains of the Temple of Poseidon. It's the most popular day-excursion from Athens; the sun setting over the Saronic Gulf is a sought-after spectacle, as it is the only archaeological site open until sunset all year around.
According to Greek mythology, every year the Athenians sent 7 female and 7 male youths as tribute to the Minoan kingdom, as human sacrifice, to be devoured by the Minotaur, a dreaded monster that was half man half bull which was confined in a labyrinth specially designed by Daedalus, for the Cretan king, Minos.
Theseus managed to persuade his father, Aegeus, to embark on a quest to slay the beast, agreeing that if he survived, upon his return he would hoist a white sail. However, although he killed the Minotaur and managed to escape from the labyrinth, leaving the Minoan kingdom alive, inadvertently, he tragically forgot to change the black sail to white. Aegeus, looking out from Sounio anxiously waiting his son's return, seeing a black sail, believed he had been killed and in an ack of despair leaps to his death. The body of water hence became known as the Aegean Sea.
Archaeological finds on the site date from as early as the Bronze Age (1400 BC). The sanctuary of the Archaic Period was built of tufa and although there is no direct evidence, it was most probably destroyed in 480 BC by the Persian army after their defeat in the 2nd Greco-Persian War. The temple whose columns still stand today was dedicated to Poseidon, god of the sea. It was built identical to that of the temple of Hephaestus in Athens, constructed between 450-40 BC, during the ascendancy of renowned Athenian statesman, Pericles. The ruins bear the deeply engraved name of English Romantic poet, Lord Byron (1788–1824). On the adjacent hill, the remnants of the temple of Athens lay.
Cape Sounio Athens Riviera - Half Day Tour
4 Hours | 1 to 4 Persons
ITINERARY
Pickup from your location
Poseidonos Avenue
Glyfada
Voula
Vouliagmeni Lake
Varkiza
Saronida
Cape Sounio
Temple of Poseidon
Drop off to your location
Included
Transfer in new, luxury air-conditioned car (Max: 4 persons)
Pick up / drop off from your location or cruise ship Terminal (pier)
Professional local English speaking driver/guide
Not Included
Food and drinks
Entrance fees at any point of interest