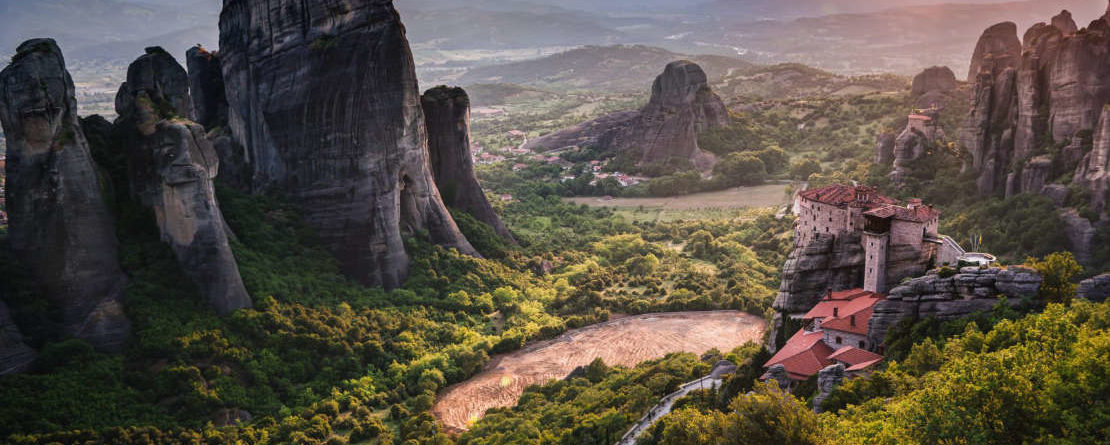 Meteora
Metéora literally meaning, "suspended in the air", is a unique combination of natural wonder and spiritual fervour. The natural geological formation of immense monolithic pillars and enormous rounded conglomerate boulders which dominate the local landscape above the town of Kalambáka, at the northwestern edge of the Théssaly Plain where the Pineiós river exits the rugged Píndos Mountain Range in central Greece, is associated with one of the largest and most precipitously built complexes of Eastern Orthodox monasteries, second in importance after Mount Athos, and are included on UNESCOs World Heritage sites.
The exact date monks first started coming here is uncertain, nevertheless, a hidden community evolved and expanded exponentially, taking advantage of the remote location simply to get away from the main highways of history that were bringing so many hordes of people through their homeland. Originally finding refuge in the natural caves, but later building monasteries nested on the top of the natural conglomerate pillars, which were inaccessible without the use of removable ladders or windlass, creating a natural safe haven.
By the late 11th c. a rudimentary brotherhood was formed centered around the church of Theotokos evolving into an ascetic monastic community by the end of the 12th c. Most of the surviving structures were erected after the 15th c., and by the 17th c. approx. 1500 monks had flocked to Metéora creating a thriving monastic state. Nowadays, of the 24 complexes that existed, only 4 monasteries and 2 nunneries are still functioning.
After 1948, when the road was constructed and women were allowed to visit, the monasteries became one of the most commercialised religious attractions in the country, and in combination with the amazing geological phenomenon of Metéora, made Kalambáka a popular all-year-round destination for Greeks and foreigners alike, attracting diverse crowds, from faithful believers, to mountaineers, and all else in between.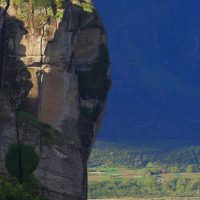 Meteora Tour - Two Days
Pickup from your location
Delphi
Kalabaka (short stop)
Meteora  (2-3 monasteries)
Kalabaka (meal)
Included
Transfer in new, luxury air-conditioned car (Max: 4 persons)
Pick up / drop off from your location or cruise ship Terminal (pier)
Professional local English speaking driver/guide
Not Included
Food and drinks
Entrance fees at any point of interest